Management Team
Meet Our Passionately Pioneering People !
---
Sandeep Barve
CEO & Managing Director
---
Sandeep is a co-founder & managing director of In-Unison Pvt. Ltd. He is passionate about business & leadership transformation. He specialize in business advisory & strategic consulting. He equip & empower leaders to effectively lead their organizations in the digital world.
More than 2 decades of global experience in Strategies, business transformation & leadership development. Leads Business @ Ease for corporate clients & heads Leadership development practice.
Over last few years he has led leadership interventions across multi-national & corporate companies like Mahindra Group, All scripts, Garware Wall Ropes, Red-Hat, SQS, Tech Mahindra etc on Succession Planning, Enabling CIO & IT Heads to move from Supporting to Leading the Business, Increasing Global Footprint & Sales, Strategic Offsites and moving to next level of capability at captive development centre.
As a keynote speaker he has spoken on topics like "Transformation", "Analytics" "Unconventional Strategies for Digital Era", "Customer Centricity" etc; at Indo-American Chamber of Commerce, SEAP, & other business conferences.
Organizations invite him to address their leadership team on " Digital Leadership-How to effectively lead in the Digital & Disruptive world".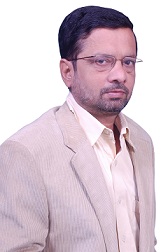 Sadanand Dandekar
Founder & Director
---
Sadanand has experience of working in large public sector (business mix above USD 25,000) & private sector banks in operations, business process re-engineering & IT over 2 decades.
He has done various types of work like setting up new off-shore development center & KPO for overseas clients, Quality initiatives & PMO, Change Management & Manpower Assessment.
He is certified PMP from PMI, US with over 2 decades of end-to-end project management expertise mainly in core banking space and - KPMG certified Process Improvement & CMM Assessment professional.
Over last few years he has led various interventions in co-operative banks.
Banks invite him for IT consultancy.